Target spring home decor collections to shop in 2023
Spring is around the corner and, with it, the pressure to refresh and reorganize your space. If you need some inspiration, you're in luck: Target has already dropped a new batch of spring home collections from its popular in-house brands, complete with bedding, furniture, storage, wall decor and more.
Target brands each have their own unique look, so you're bound to find something that suits your personal style. Hearth & Hand with Magnolia — a collaboration with lifestyle experts Chip & Joanna Gaines — features functional yet stylish upgrades for the modern farmhouse vibe, like a vintage-style kitchen scale and faux-leather storage bins. The latest collection from Threshold designed with Studio McGee is warm and inviting, with waffle-knit blankets and textured accent pieces. If you're leaning more towards that extra pop of color, check out Opalhouse designed with Jungalow for lively outdoor furniture and decor that will make you feel like summer is already here.
It's only January, but who says you have to wait for the warmer months to start revamping your home decor? If you ask us, it's better to get a head start — especially when the options are this affordable. Plus, popular items are already selling out! We rounded up a list of 28 favorites from Target's spring home collections below, starting at $4.
Hearth & Hand with Magnolia spring collection
Hearth & Hand Orange Scone Recipe Printed Flour Sack Kitchen Towel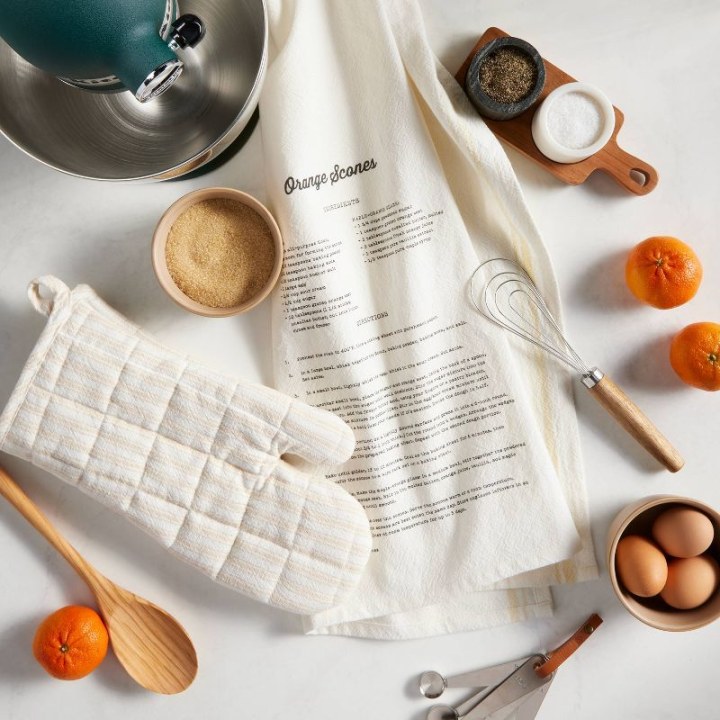 The recipe-printed kitchen towels are a Hearth & Hand fan favorite, and this year's spring one doesn't disappoint. It features an orange scone recipe (yum!) on an ivory cotton fabric. We think this would look perfect hanging next to a baking station, or even just draped over the oven handle. Shop it now for only $4.
Hearth & Hand Potholders (Set of 2)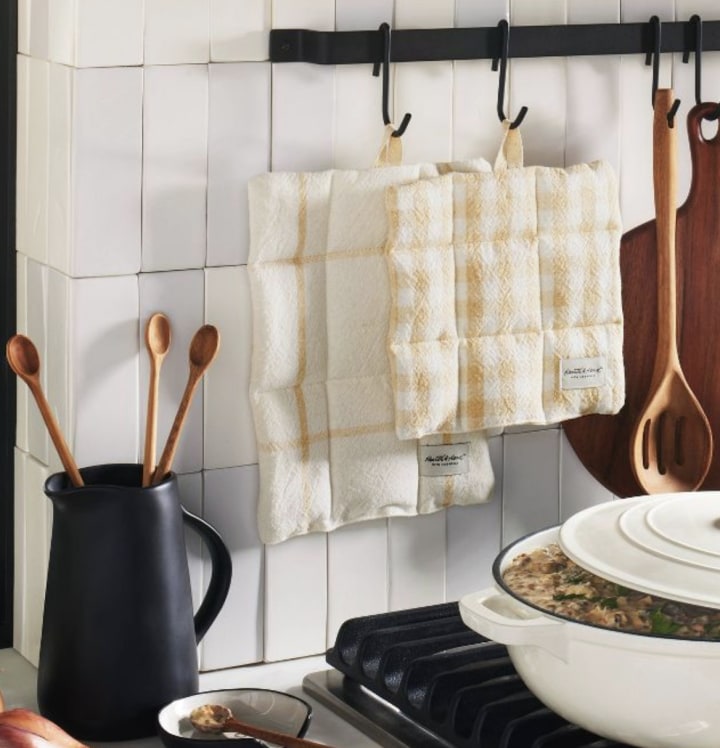 The smallest decor touches always just seem to bring a space together. You can get two of these super cute quilted potholders for just $9.
Hearth & Hand Small Desk Storage Metal Latch Box
According to the brand, this small, gold-finished latch storage bin is designed to be perfectly sized for a desk. It's made of a sleek brown metal and is a steal at only $13. If you want another bin to pair it with, Target also has a larger peach-colored version available.
Hearth & Hand Modern Rim Stoneware Kitchen Sink Caddy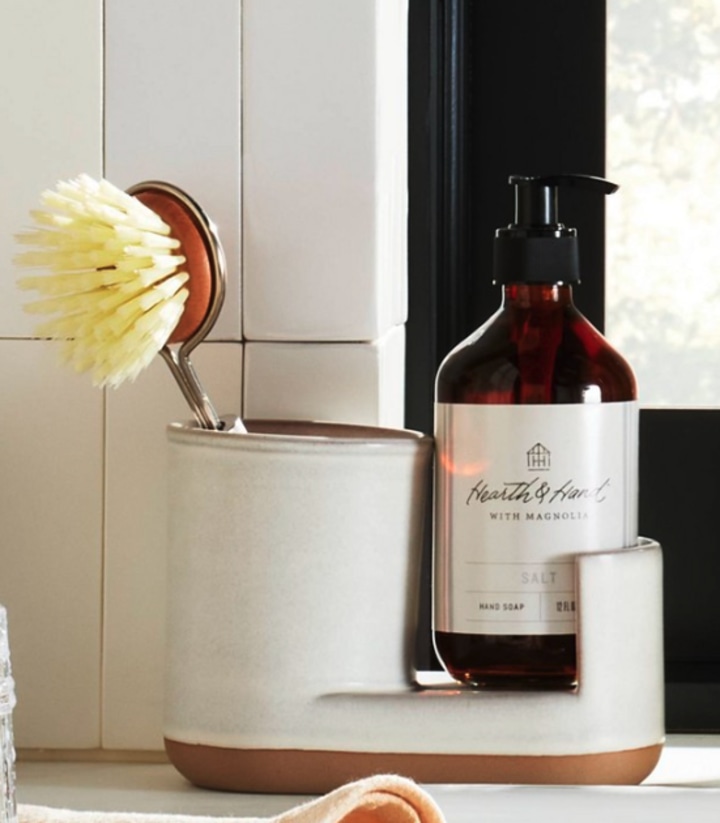 Save a little extra counter space with this sink caddy, which could hold hand soap in one compartment and toothbrushes in the other.
Hearth & Hand Round Decorative Tabletop Clock
If you're searching for simple yet impactful decor for your bookcase or desk, this blue-grey tabletop clock is only $15 and sure to be the missing piece.
Hearth & Hand Neutral Stoneware Ramekins (Set of 3)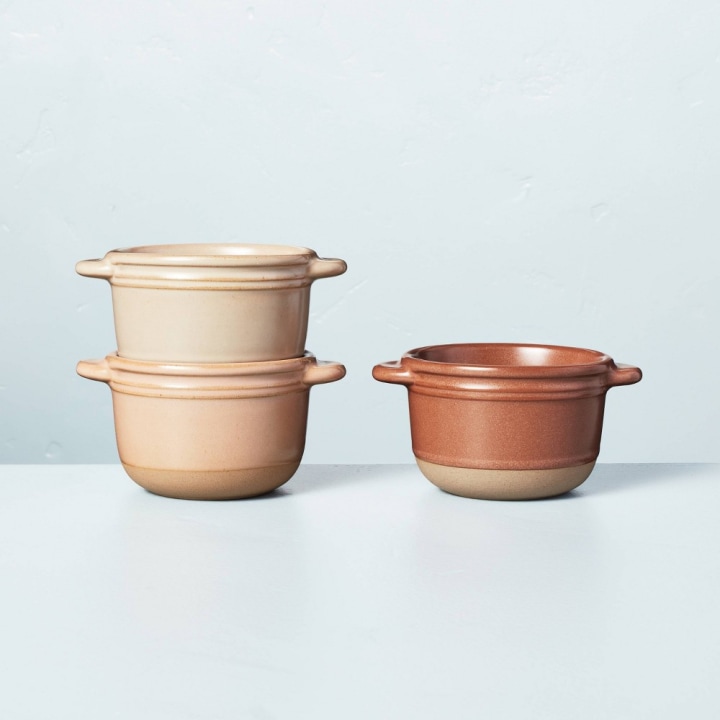 Score three ramekins for $15 with this neutral stoneware set from Hearth & Hand. They're multi-use, meaning you can cook, bake, serve and dine out of them — you're definitely not sacrificing functionality for style with these. They are also dishwasher and microwave safe, according to the brand.
Hearth & Hand 18″ Faux Seeded Skimmia Wire Wreath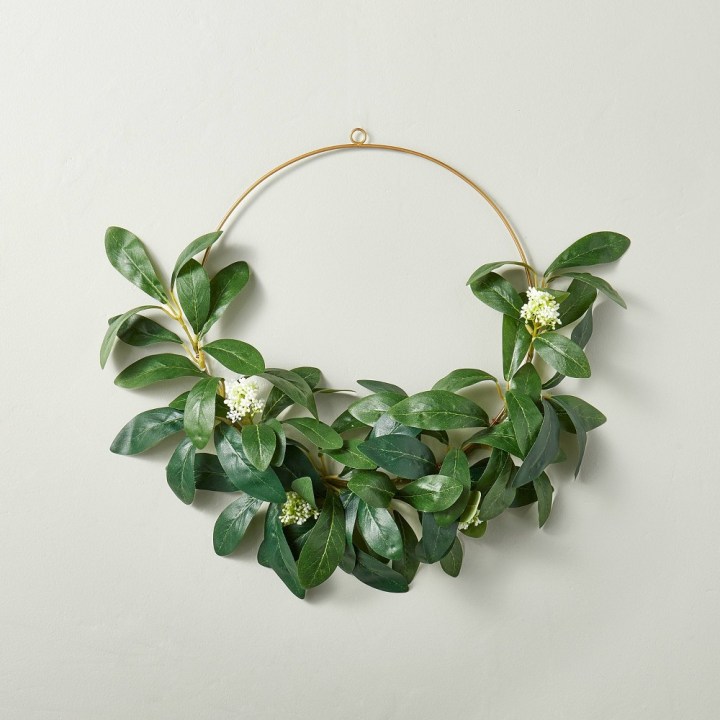 This Skimmia wreath would be perfect to spruce up an entry way, or as a unique, leafy addition to the living room gallery wall.
Hearth & Hand 11lb Stainless Steel Kitchen Scale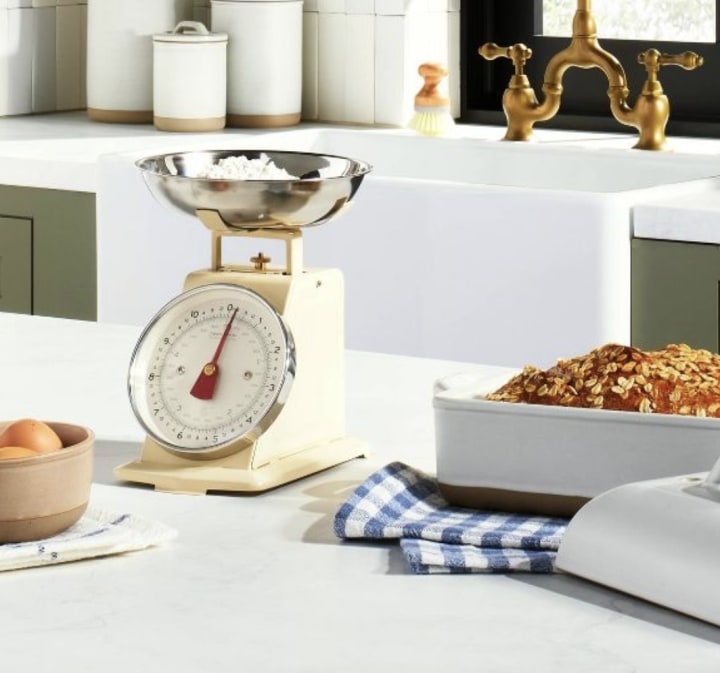 Who doesn't love a beautiful and functional kitchen gadget? According to the brand, this kitchen scale can weigh up to 11 pounds in produce, baking ingredients and more.
Hearth & Hand Braided Jute Table Runner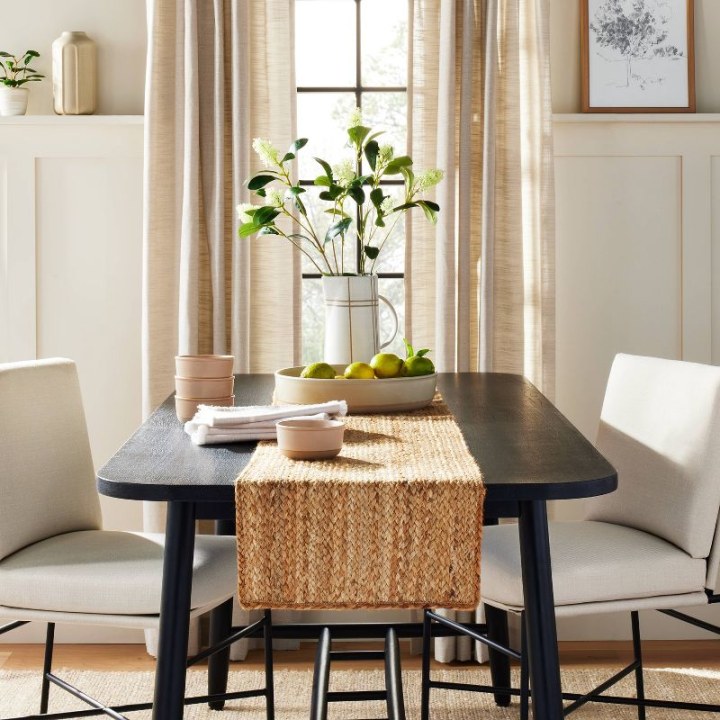 Jute is a tried-and-true favorite spring texture, and this table runner will bring just the right amount to your home decor revamp.
Hearth & Hand Small Faux Leather Storage Bin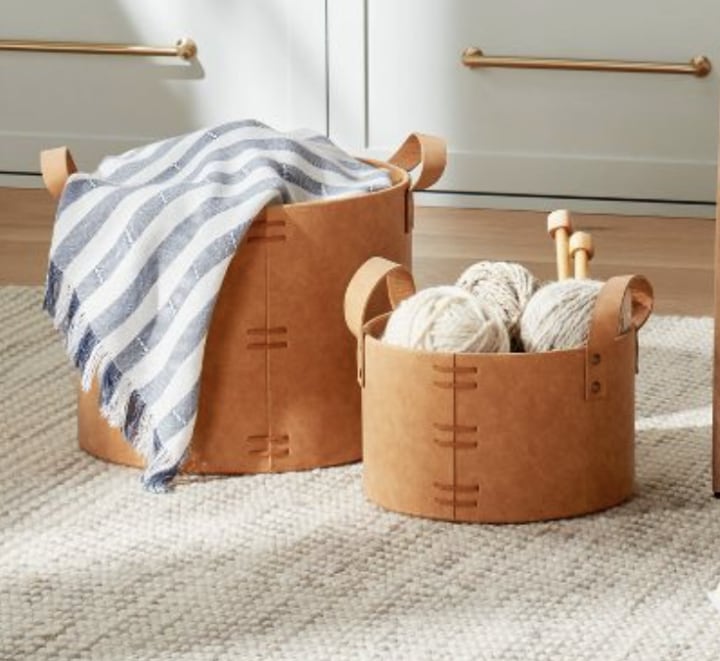 Sometimes you can't avoid having storage where guests can see, but these faux-leather bins will make it look chic and purposeful. Great for blankets, pillows or game night favorites, they are currently available in three different sizes to suit your needs, starting at $25.
Hearth & Hand Brass Vanity Flip Mirror with Tray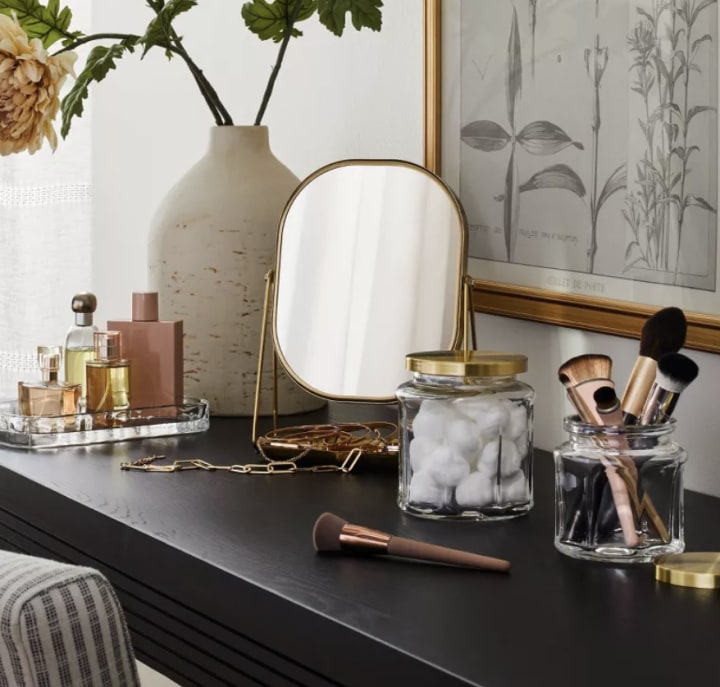 The quality of an everyday mirror is extremely important — it can make your break your look for the day. This brass vanity mirror from Magnolia can flip between two sides, with one of the sides having magnification, so applying liquid eyeliner doesn't have to be so daunting. "This is so much bigger, more beautiful and more useful than it looks online," one reviewer stated, adding that "the mirror is great quality and it dresses up [her] bureau!"
Hearth & Hand Neutral Metal Oval Desk Trays (Set of 3)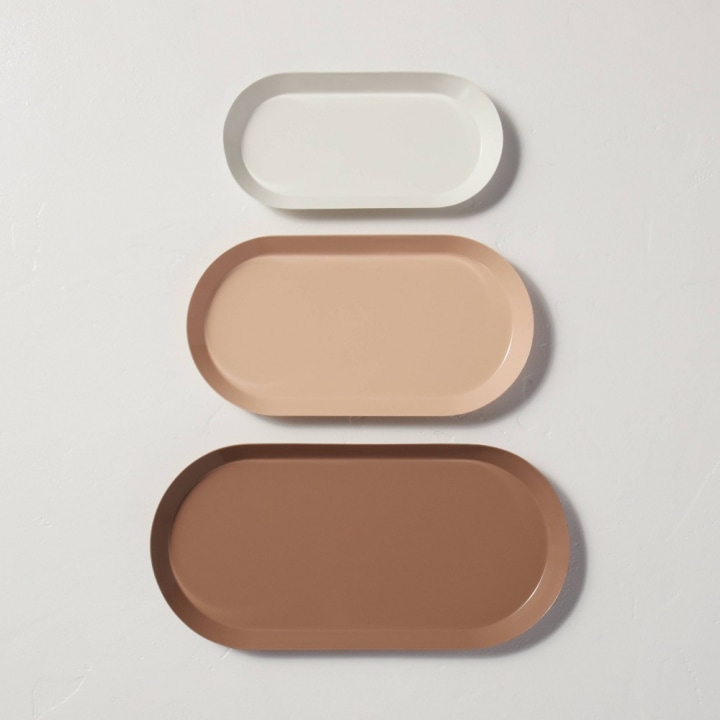 Pair these oval desk trays with the metal storage bins for elevated and chic organization solutions. You can shop the entire set of three for just $25.
Hearth & Hand Faux Gypsophila Leaf Arrangement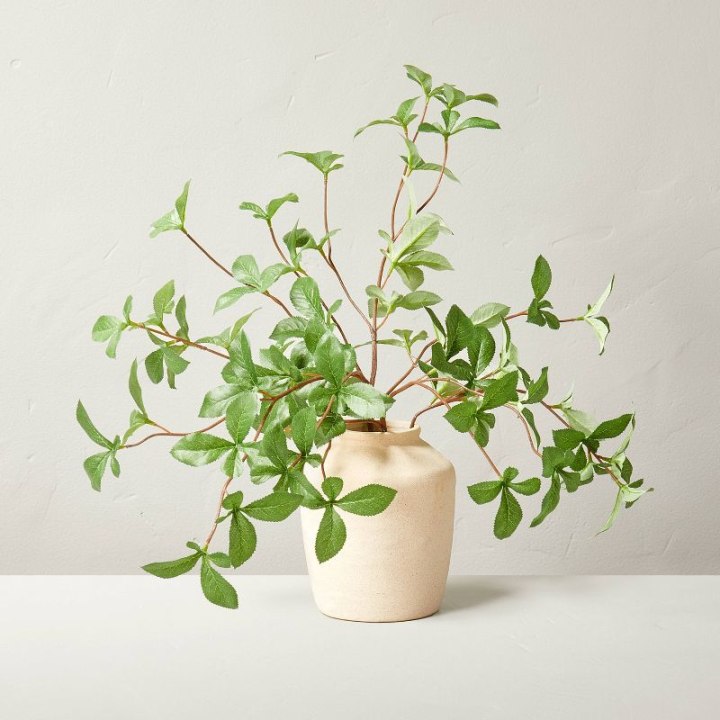 If you're like us, sometimes the patience and effort required to keep up with real plants can be neglected on those extra busy days, and before you know it, that green and thriving plant is a crumbling, drying mess. This faux gypsophila will stay looking bright and lively without the hassle, plus it comes in a beautiful ivory ceramic container. You can grab it now in either a small or medium arrangement.
Hearth & Hand Subway Tile Square Throw Pillow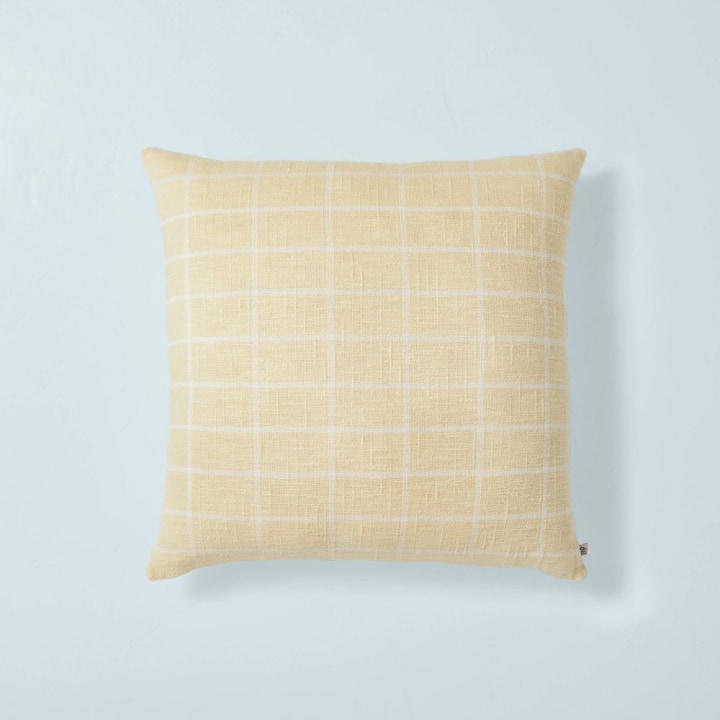 A key element (and maybe the most fun) of a spring home refresh is a new set of throw pillows. The creamy yellow cover of this one from Hearth & Hand is removable and machine washable, providing extra ease in keeping your linens clean and fresh.
Hearth & Hand Accented Metal Task Lamp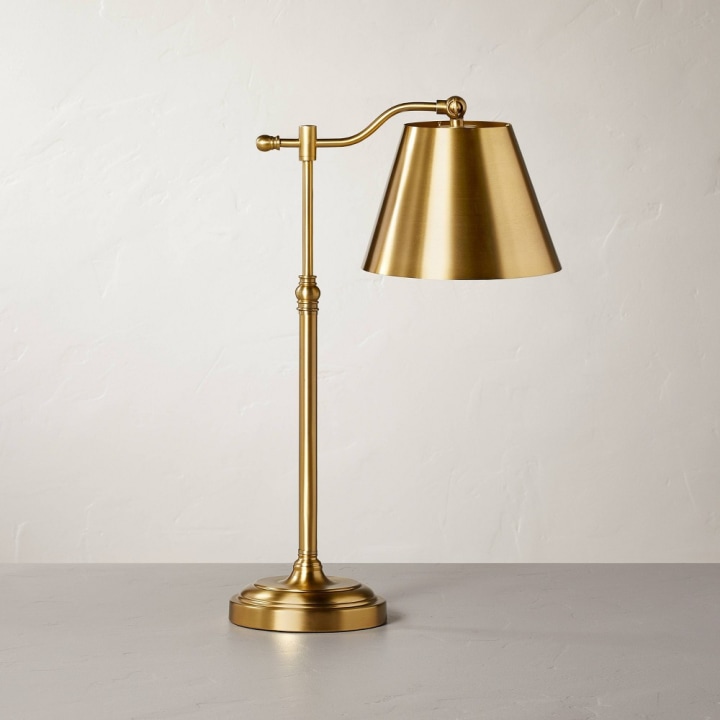 For only $60, this metal table lamp would make a great addition to the bedside or a reading nook. It features an adjustable arm and neck and a five-foot cord, so it can be customized to your liking. According to one reviewer, "This light feels very high end and looks great!"
Threshold designed with Studio McGee spring collection
Threshold Abstract Ceramic Mini Table Lamp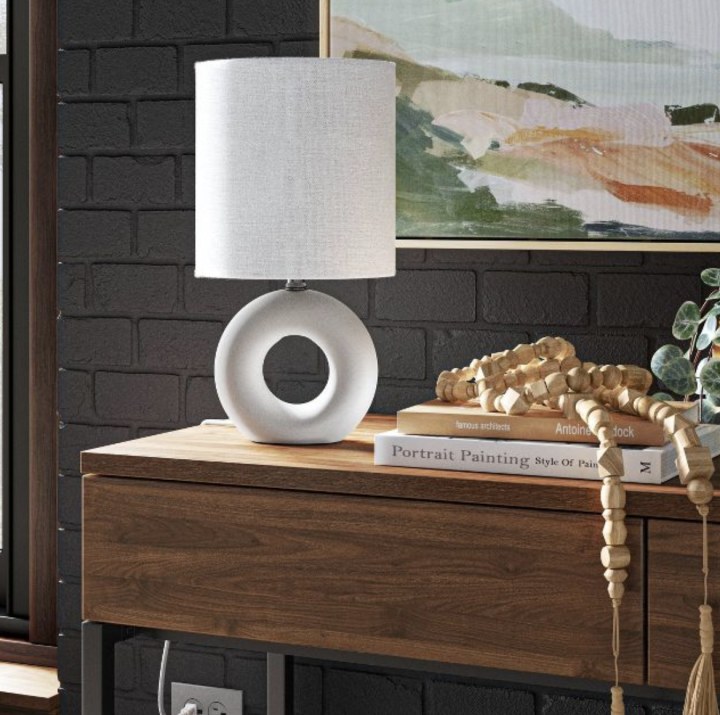 An abstract accent lamp that's actually affordable? Yes, please! The doughnut-shaped ceramic base effortlessly brings a touch of style to any table. At only $12 (bulb not included!) this is an absolute steal.
Threshold Small Rounded Faux Shagreen Box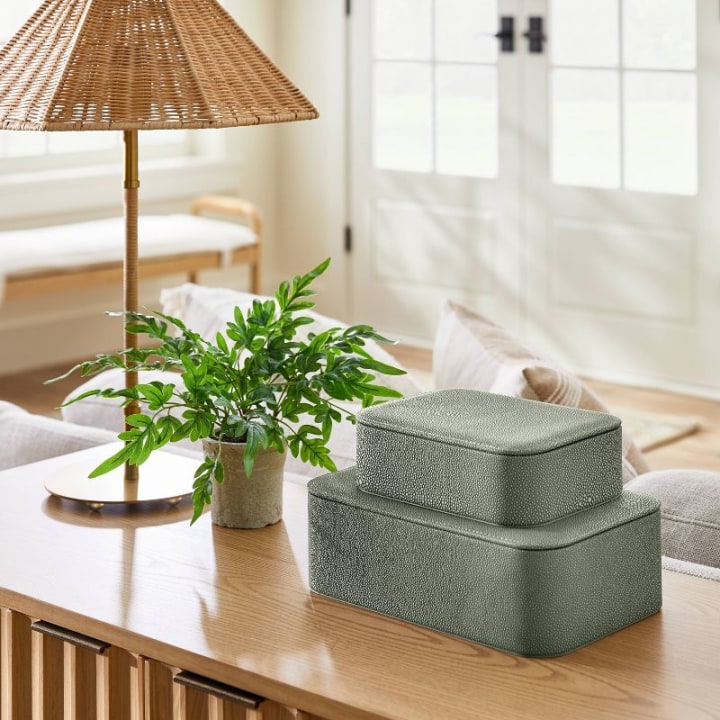 Once spring cleaning starts to ramp up, you're going to be wanting more and more cute but practical storage solutions. This faux shagreen box would make the perfect trendy addition to an entryway, desk or nightstand to hold all of your small day-to-day necessities.
Threshold Fluted Glass Canister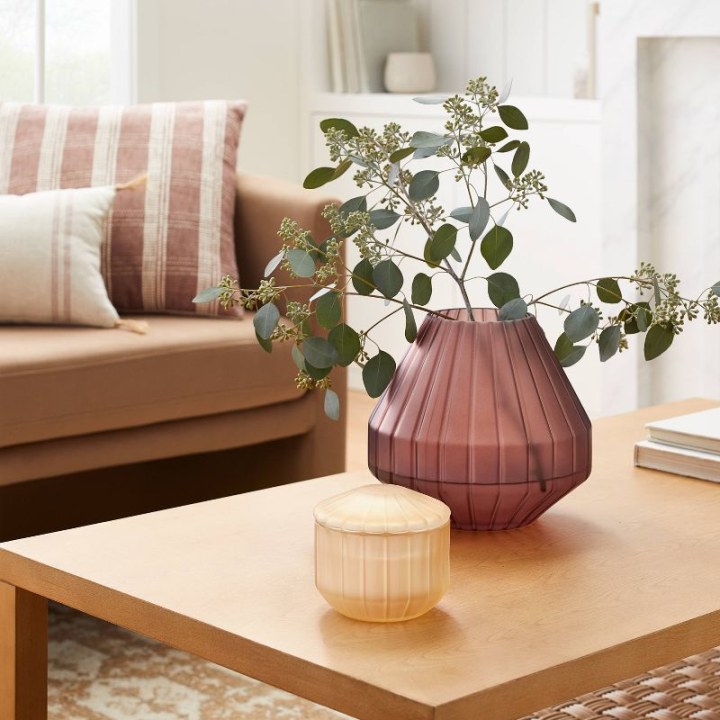 This opaque, glass fluted canister would pair well next to a vase on your coffee table, or as a small but mighty statement piece on the mantle.
Threshold Large Ceramic Vase with Exposed Clay on Bottom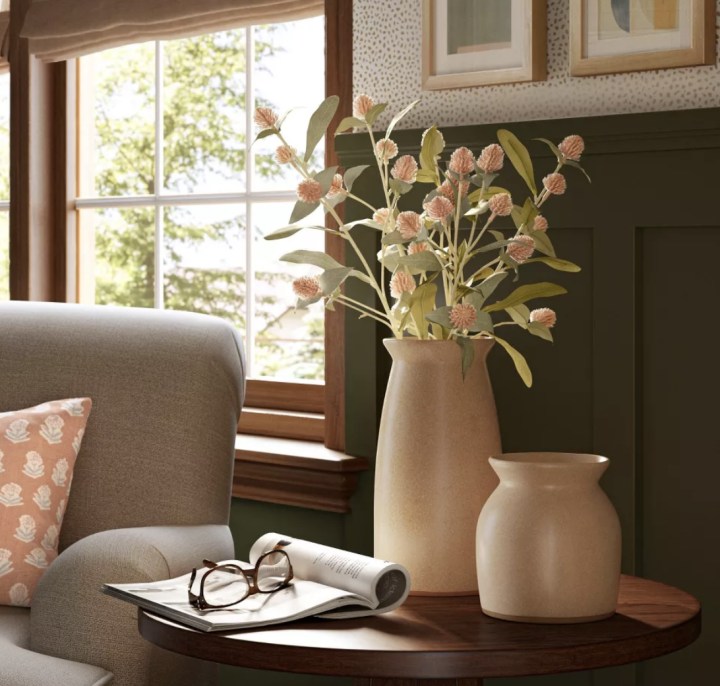 For only $25, this vase is such an effortless and affordable way to add a modern, stylish touch to your home refresh. It pairs great with greenery or flowers, but can also stand alone on a mantel or coffee table.
Threshold Windowpane Knit Throw Blanket with Tassels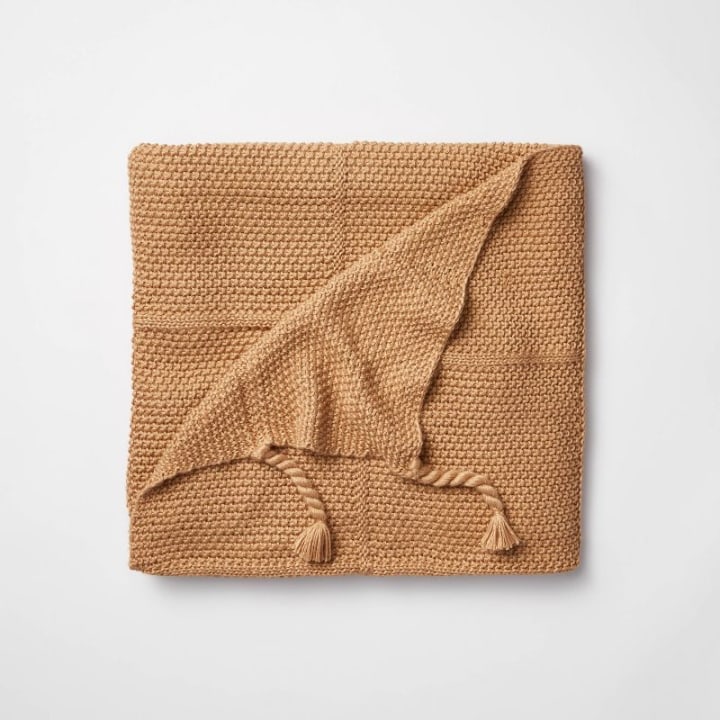 This waffle-textured throw blanket is available in camel, light green and cream, for only $30! It's lightweight and soft, according to the brand, so it would be perfect to cozy up with against the early spring chill.
Threshold Black Rope Basket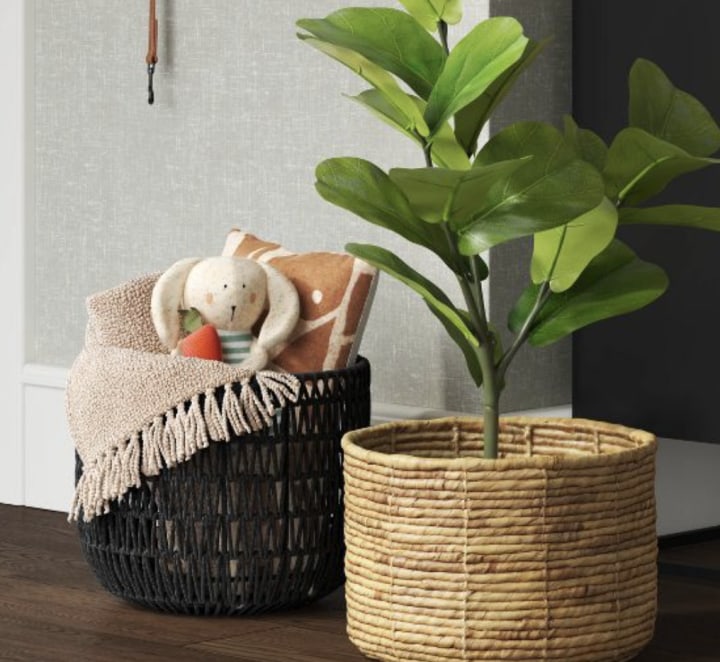 This decorative round basket is woven with rope, giving it a unique textured look for your home. It's also deep enough to hold a few of your favorite throws or pillows.
Threshold 24″ x 30″ Woven Check Wall Mirror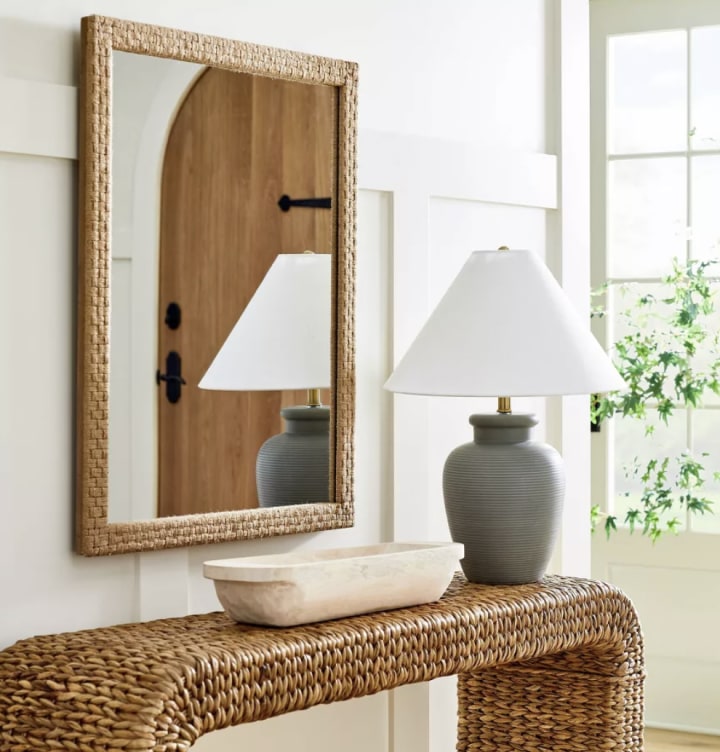 The woven check frame of this wall mirror is the perfect touch to elevate a home decor staple. Hang it in an entryway, above your vanity or make it a standout addition to a growing gallery wall.
Threshold Wasatch Console Table with Drawer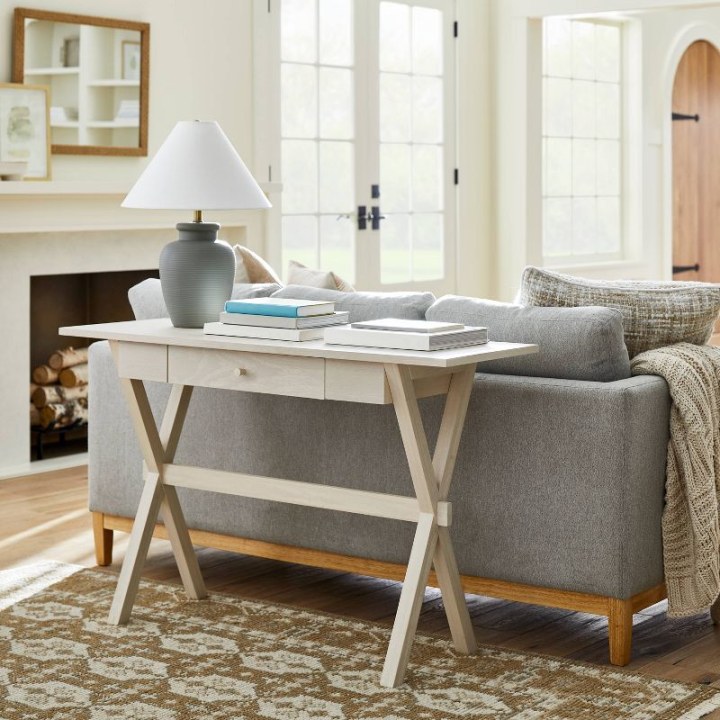 Occasionally overlooked because they don't serve the same outright functionality as a couch or coffee table, a quality console table may be the answer to the age-old interior design predicament of "something is missing here." Not only does this one from Threshold offer extra storage, but the slim design and creamy white finish means it will fit perfectly anywhere in your home — behind the couch, the entryway and more.
Opalhouse designed with Jungalow spring collection
Opalhouse 16″ Iron Outdoor Wall Planter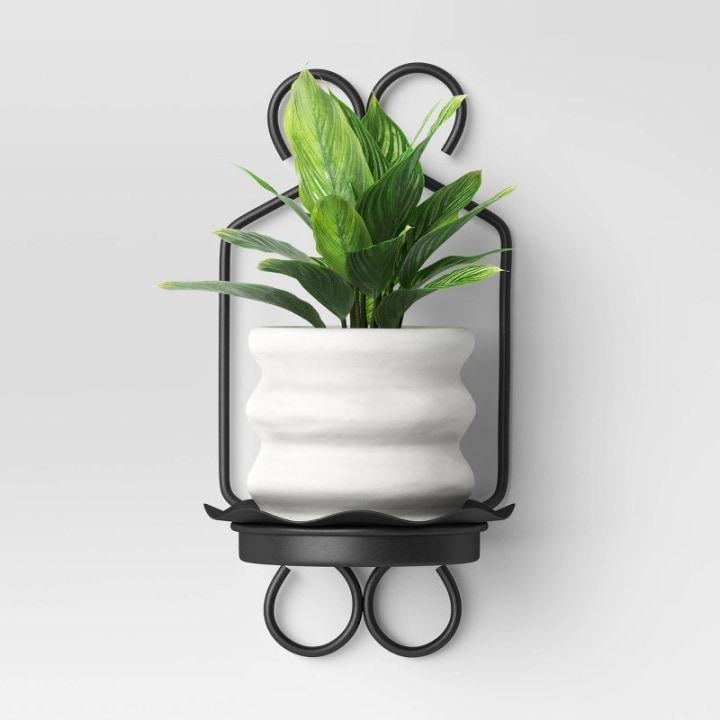 Don't forget to give your exterior walls some love this year! A small plant goes a long way to bring some extra greenery to your home. Perched directly in the sun, your favorite little plant is sure to thrive on this wall planter. Made of iron with a black finish, it's a deal at only $20.
Opalhouse Earthenware Warm Patterned Indoor/Outdoor Planter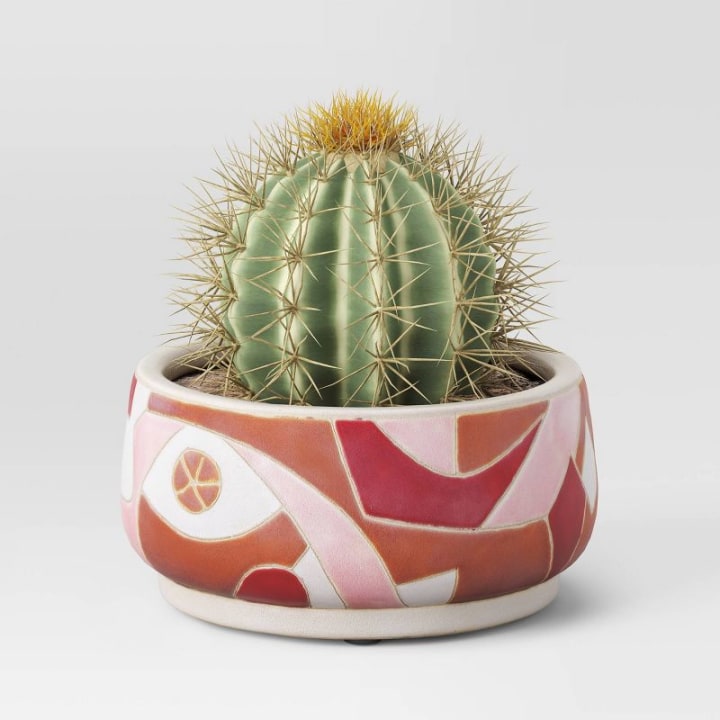 This warm-toned planter would make a statement addition to either indoor or outdoor spaces. It features a drain hole, so you are not limited to using faux plant displays. The smaller diameter could suit cacti, aloe vera or baby tears.
Opalhouse Outdoor Throw Pillow with Tassels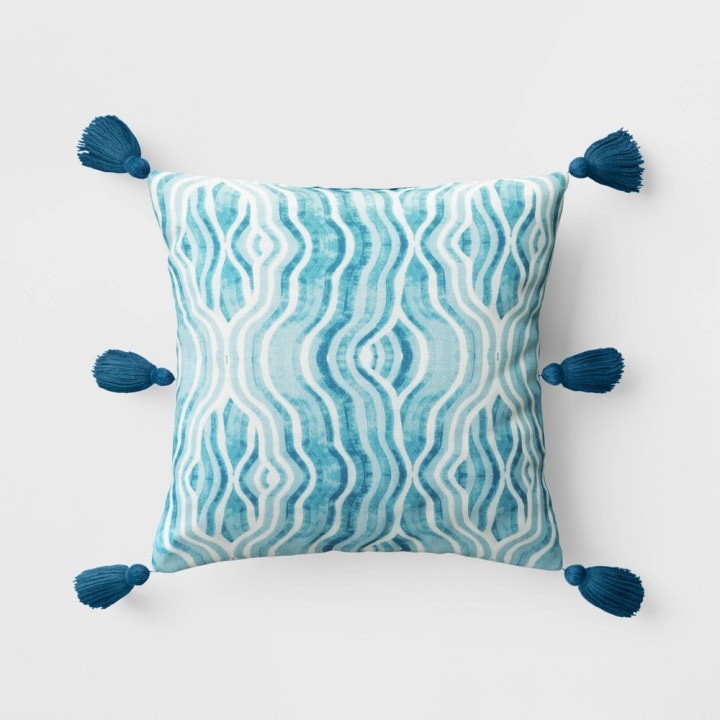 Channel those crystal-colored summer waves right to your patio with this throw pillow from Opalhouse. The cover is removable for easy cleaning and care.
Opalhouse Metal/Glass Outdoor Lantern Candle Holder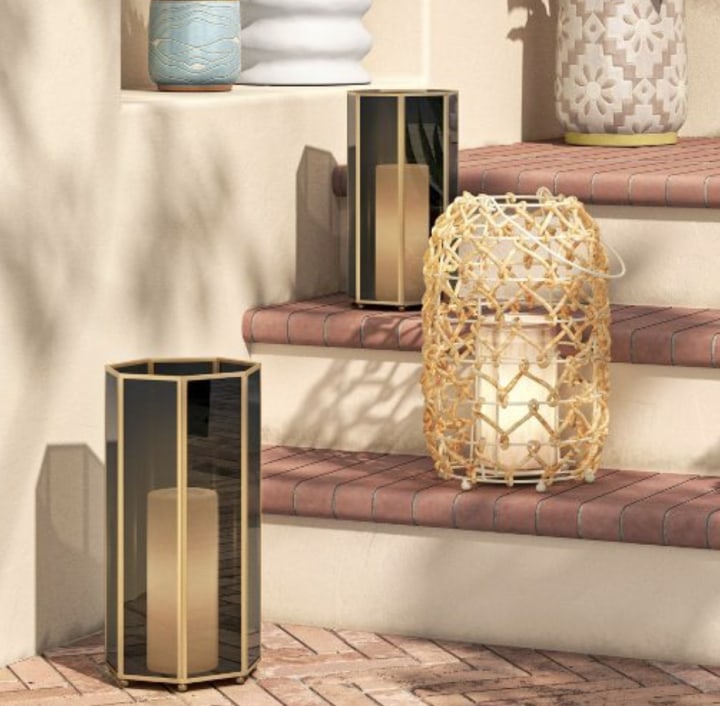 Elevate your patio lighting for your next get-together with these luxe black glass candle holders, available in two sizes. According to the brand, you place a pillar candle inside to emit a warm, moody glow.
Opalhouse Iron Outdoor Plant Stand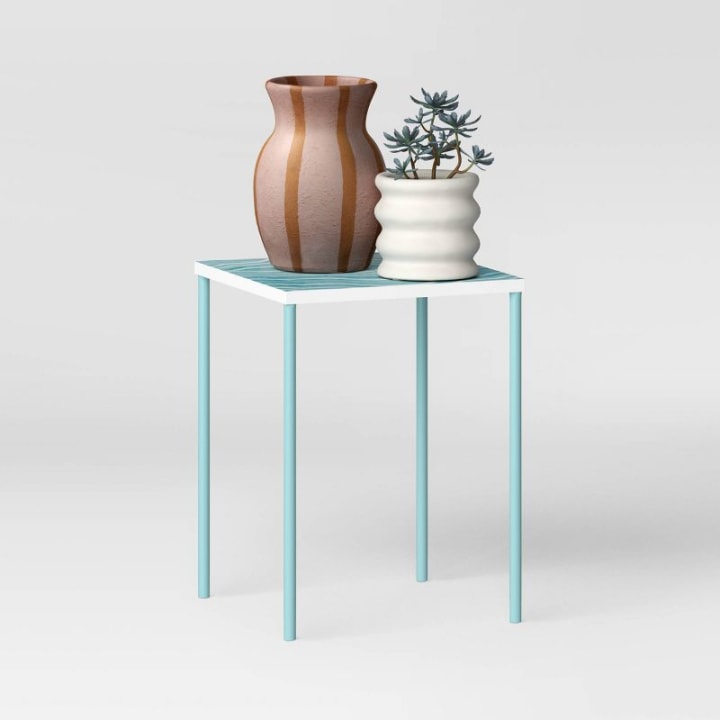 You're going to need a place to put all of those cute new planters you just scored! While your favorite plants could live comfortably atop this stand, it could also double as a patio side table for lamps, vases and more.
link